Driveways
Paving your driveway has many benefits including increasing property value, reducing dust and dirt tracking into your home, lower maintenance, safer, and of course a great look to your landscape.
Walkways
Brown's Paving produces beautiful walkways, golf cart paths, medians, and so much more. The newest product, pattern paving, enables a stamping pattern into the pavement along with your choice of colour. This brings asphalt walkways to an entire new level and gives you lots of options for the look you're going for.
Roads/Streets
Brown's Paving can be found paving your streets and roads all over Southern New Brunswick. While this is often commercial work, Brown's takes great pride in making the roads safe for all New Brunswickers and tourists.
Parking Lots
Don't let your parking lot keep customers away from your business. Leave it to Brown's Paving to get it done right the first time!
Pattern Paving
Pattern Paving gives you various aesthetic options. Here is a brief overview:
Stamped into Asphalt…
Fast Installation… little project downtime…
Handles northern climate freeze thaw cycles…
Easily repaired… invisible seams…
Deicing salt resistant…
UV stable colors… maintain color for years
Simple to Complex Patterns
Custom Patterns and Logo
Pothole Repair | EZ Street Asphalt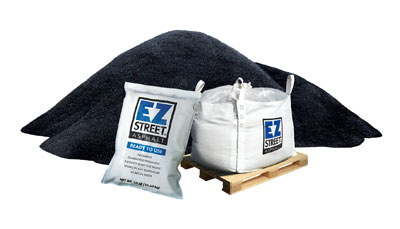 The secret of EZ Street is that its polymer-modified cold asphalt can permanently repair potholes, street edges, utility cuts and provide overlays to asphalt or concrete. It works in all weather conditions – it can even be installed in water.
Concrete Blocks
Brown's Paving concrete blocks provide a beautiful addition to any landscape. The blocks are formed in a mould to give it a textured and natural look. The concrete blocks come in medium and large as well as steps.